Cannonball Run 1 & 2 (1980 & '83)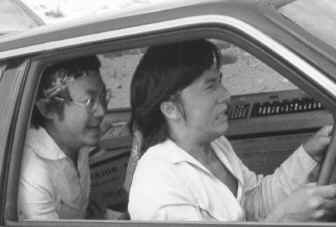 Synopsis: Dozens of contestants enter a coast-to-coast anything-goes auto rally.
Debbie's Review: While Jackie was in America in the early 80's hiding out from the Hong Kong triads, his bosses at Golden Harvest thought the exposure of being in a big American production with a huge cast of big name stars would be good for his career. I guess it didn't hurt it any, but it didn't exactly make him a household name.
Cannonball Run parts 1 & 2 are really just one long movie, with stars like Burt Reynolds, Dom DeLuise, Roger Moore, Frank Sinatra, Dean Martin, Farrah Faucett, Adrienne Barbeau, and a veritable who's who of 80s TV stars. As 80's nostalgia, they're kind of interesting (if you can remember the 80's, that is). If you compile all Jackie's screen time from both movies it's about the length of a beer commercial. In Part 1 he spends most of his time inside his jazzed-up Mitsubishi in the dark. In the second one he has a quick fight with Peter Fonda and a gang of Easy-Rider rejects that's kind of fun. I actually saw these movies in the 80's when they were first released and sort of liked them, but later when I became a Chan fan I was astonished to learn that he was even in them!
Score:
Part 1: 3/10
Part 2: 4/10


Reader Reviews
KUNG FU SUPERCOP's Review:Cannonball run is a pretty funny 80's movie about these people that have a race. It has a cast of Burt Reynolds,Roger Moore,Farah Fawcett,The Rat Pack,Jackie Chan and many others.Along with the big brawl and the protector This was a movie where Chan tried to get famous in the USA.He does not star in this movie.I reccomend this movie to the people who like comedies or fans of any other actor in the movie
Score: 7/10

Super Dragon's Review: Cannonball Run has an all star cast of the rat pack,dom de luise,roger moore,burt reynolds,farah fawcett and Jackie Chan.This was one of the movies that tried to make him famous in the U.S.Its pretty funny.the story is about these guys that are in a race.I saw this movie a long time ago an showcase Action.I have not seen Cannonball run 2 yet.
Score: 6.5/10

Funky Dragon's Review: An attempt to get jackie famous in the u.s he is not the star of the film.You will also see some other familliar faces.it's like rat race it has an all star cast also. It has Burt renolds,roger moore,Farah fawcett,dean martin,frank sinatra Jackie Chan and lots more.It iis also like rat race because they have a race in this movie.this review is for the first cannonball run.
Score: 7.5/10

???'s Review: I have only seen the first one so i am going to review that movie.This was one of the attempts to get Jackie famous in the U.S it has a lot of actors we know because it was made in america.Its about these guys who have a race.
Score: 7/10


The Drunken Master's Review: This is one good film. Even though Jackie isn't the star, it's still pretty entertaining. In the end, it's good to see Jackie get Peter Fonda. (I hate him!)
Score: 7/10

The People's Chan's Review: These are not Jackie movies, although the second one has an okay (but very brief) fight scene. Reasonably funny, in an 80's kind of way.
Score: 5/10

Oliver's Review: No...dont see this movie if you can find another Jackie Chan or just a good hollywood movie you havent seen. But I can tell you guys this... As Fantasy mission force, When Jackie jump in to the scenes you lauhge and get happy becuse the few scenes with him is realy funny, but, when he jumps out you just want to canghe movie.
Score: 4/10