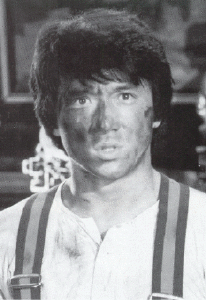 Synopsis: Jackie plays "Dragon" Ma Yu Long, a coast guard officer in turn of the century Hong Kong. The coast guard is trying to implement a plan (called Project A) to rid the South China Sea of pirates, but due to lack of funds the sailors are all loaned out to the police instead. Sammo Hung plays Dragon's conniving friend who is conning him one minute and saving his life the next. Frustrated by the police force's inability to deal with Hong Kong's criminals, Dragon quits the police and strikes out on his own, but eventually convinces his Coast Guard superiors that the pirates can be defeated. Yuen Biao is also present as a "by the book" police officer who teams up with Jackie and Sammo to win the day.
Debbie's Review: This is one of Jackie's all time best. It's on virtually everyone's top 10 Jackie list of all time. This was the first film he put in a modern setting (even though it takes place at the turn of the century), and it has a ripping good story and some really incredible action set pieces and stunts. I can't think of a single thing to say against Project A.
The highpoint for me is a frantic bicycle chase through crowded Hong Kong streets that ends at the top of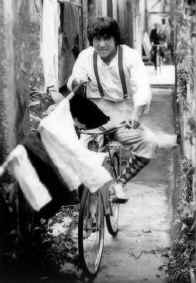 a giant clock tower, from which Jackie falls, tearing through a couple of awnings before slamming into the ground head first…a stunt which he performed not once, but several times!!! This movie marked the beginning of Jackie's trademark use of insane stunts. It also marked the beginning of some really serious back and neck problems that plague him to this day (kids, don't try this at home!) Fortunately, he has since decided that being dropped repeatedly on his head is not absolutely essential to a good action film, and seems to be playing it a bit more carefully these days.
The presence of Jackie's Opera School brothers Sammo Hung and Yuen Biao makes this movie even more fun. This film is packed with exciting stunts and incredibly choreographed fights, particularly the big final battle with Pirate Chief Sam Pao (a great performance by Dick Wei). I would strongly recommend avoiding the American release of this film, by the way. Not only have some great scenes been cut, but the original exuberant music score was replaced by a thin, dragging score which completely robs the actions scenes of their excitement. Do yourself a favor, and don't watch this film unless you can get hold of the original version.
Score: 10/10


Reader Reviews
Chan Fan1986's Review: I must say that this, along with Miracles and Drunken Master 2,are my favorite Chan movies. The Clock Tower stunt now oh so famous, is unbelievable. This was Jackie's first movie in a modern type setting, and to this day, scenes like the bicycle chase remain my favorite action sequences ever. The fight choreography in this is unbelievable, like the fights in Miracles. If you consider yourself a JC fan, you better have seen this one.
Score: 11 out of 10 if possible

Philip, the 13 year old Chan fan's Review: I thought that Project A was totally groundbreaking. The fights are well choreographed and as for the fight with Sanpao at the end, well need i say more. The film has a good tempo and another good thing about this film is, it has the three brothers in it. So Project A just for that clock tower stunt it deserves 10/10 so without further adue give this film
Score: 10/10

Geo's Review: This is one of the best movies I have ever seen of Jackie Chan. One of his bests next to Drunken Masters' 1 and 2, and Police Story. Great action and stunts. Especially, falling off that clock tower. Plus, The three kung fu teers are in it. Which Jackie is one of the 3. Great movie a must see. The American version from Dimension is ok. I saw the original and found out why they had to take out that bathing scene and the mah jong game. Make it more simpler and shorter for American viewers. I think they shouldn't have taken it out.
Score: 10/10

Glen M's Review: Just read the reviews above, they speak the truth, lol. No doubt any Jackie fan should not miss this!
Score: 10/10

Comedyjim's Review: This has got to be if not the then one of the best movies that Jackie has ever made where he is the main star alongside a very acrobatic Yuen Biao and rather podgy Sammo Hung. This was the break that bought Jackie into the stardom he so truly deserves.
The first fight at the beginning between Jackie and Yuen was truly magnificent, you can just see the hard work it takes to coreograph(i think thats how you spell it and co-ordinate a scene that good.
It was truly researched very well, beign one of the very first period Hong Kong made films to actually be set in Hong Kong. The costumes, props and characters are all very realistic to the time itself.
And the fight at the end was truly magnificent. Kids don't do to people what Jackie did to the pirate at the end. You'll get done for murder
Score: 10/10

Homer J's Review: After the comparative failure of Dragon Lord at the Hong Kong box office, Jackie apparently walked into the office of Golden Harvest head honcho, Raymond Chow, and said that he had an idea for his next film but it would cost them an awful lot of money. Chow took a big gamble on Jackie considering his surprising fall from grace but boy did it pay off!

People often cite Drunken Master as the film that was the catalyst for Jackie's meteroric career but Project A was truly revolutionary. He had taken the more kinetic fighting style he had developed for "Young Master" and combined it with Sammo Hung's newly developed choreography techniques in films such as "Winners & Sinners" to create the first of the "Golden Era" kung fu films that were so influencial in the 1980s.

Project A also saw a departure from the traditional kung fu films, shifting the time and local from Ming or Ching Dynasty to early 20th Century and the story from the student/master relationship to a more swashbuckling, rousing action adventure.

And everybody loved it!!

The story was simlistic but classic, a good natured tale of three originally mismatched foes banding together to fight a common enemy, sprinkled along the way with British Imperialism, damsels in distress and villainous pirates. Not forgetting of course, and perhaps most significanty, this was the period where Jackie decided to ignore all common sense and perform the frankly ludicrous stunts that are now so synonymous with his films. The clock tower sequence, inspired by
Harold Lloyd's classic "Safety Last" is one of Jackie's most celebrated moments, and whilst the fall from the clocktower is the more spectacular of the two stunts, it was the jump from the flagpole to the clocktower that was the more dangerous and yet surprisingly less fondly remembered!

All this alone makes for a fabulous film, but as extra incentive (as if any was needed!) Jackie enlisted his two Peking Opera brothers Sammo Hung and Yuen Biao to share the spotlight, in fact their chemistry was so good in the film it paved the way for further significant collaborations ("Wheels on Meals" and "Dragons Forever") rather than the extended cameos in each others' that we had seen from them previously. The end fight scene against the excellent Dick Wei saw all three take him on in unison, something that had never been seen before and rarely topped since.

Project A was a wonderful example of Jackie's ambition, guts and determination to come back kicking after a failure and marks one of the principle highlights of his career. It is poetic justice that the film's title includes the letter "A", which is exactly the grade the film achieves and rightly deserves.
Score: 9/10 [ed. note: What the heck does a guy have to do to get a 10/10 from you, Homer J?. Break his neck? Debbie]

JIC's Review: This has gotta be 1 of my favourite Jackie movie. I love the bicycle chase, the clock tower fall, the final fight, the bar brawl. Infact i practally love the whole movie!!! great fighting by Yuen Baio, and some good fighting by Sammo. The only 1 thing that got me was that Sammo was really annoyong with his constant running and letting Jackie handle it. It was the 2nd jackie movie i ever saw and is still on of the best tht i ever have seen!!! Jackie gets a 10/10 for this movie.
Score: 10/10

OJJE,S REVIEW.THIS MOVIE IS ONE JC,S BEST MOVIES EVER I HAVE NOT GOT BORED OF THIS MOVIE YET.I THINK THAT ALL THREE SAMO,YUENAND JACKIE WERE FANTASTIC. YOU DON,T SEE SAMO AND YUEN THAT MUCH BUT WHEN YOU DO THEY ON TOP YUEN,S BEST PARTS WHEN HE HAS TWO WILD FIGHTS TEAMING UP WITH JACKIE IN THE BAR AND IN THE VIP CLUB SAMO,S BEST I THINK IS WHEN HE YOU HAVE RUINED MY WNNING HAND AND SMACKES THE GUY IN THE FACE
AND JACKIE BEST BIT WELL HE WAS IN ALOUT OF BITS HIS BEST WAS THE BICCLE CHASE THEN STAIGHT AFTER THE WORLDS BEST STUNT THE CLOCK TOWER STUNT THIS MOVIE IS EXELLANT FOR ALL ROUND ENTERTAINMENT SEE IT NOW
Score: 10/10

Chan Fan's Review: This movie has to be one of my favourite Chan movie it's funny has some excellent fights and some mad stunts! My favourite quote is "I'm known as the guy called cuckoo! said by Sammo."
Score: 9.5/10

Peter A's Review: This is my favourite Jackie Chan movie-it's a classic. Fantastic fights, and truly awesome stuntplay. Another great Jackie Chan film.
Score: 9.5/10

Joe's Review: Really impressive movie, that had some nasty stunts never seen before, and is still been unable to top. I liked the clock tower fall, but it was kinda stupid to show it twice like that. Still, awesome.
Score: 7/10

Brendan's Review: This is a great movie. The stunts rock, in a word. The fights are awesome, and look good on screen. This was a turning-point in Jackie's career, and it is easy to see why. The early 1900's-Hong-kong setting can get a little confusing, but don't worry about that. The clock-tower stunt and its ensuing replay have to be seen to be believed! WATCH THIS NOW!!!!
Score: 9/10

Adam JC Fan's Review: This movie is a classic Jackie Chan film. Fighting and a little comedy. I loved the action scenes it the movie. The clock tower fall was very good. The ending fight was also very good
Score: 9/10


Jackie Chan Fan's Review: This movie was a very good, classic Jackie Chan movie. There were good stunts and good fights. The clock tower fall was wonderful. The last fight in the movie was very good. Get this movie
Score: 9/10