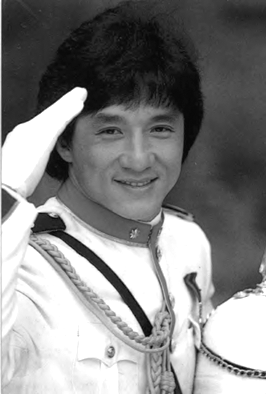 Synopsis: Dragon Ma is back in this exciting sequel to Project A. Once more, he is working for the Hong Kong Royal Police, this time to bring down the corrupt local precinct chief of police. A complex plot has the Emperor's spies chasing Nationalist rebels, and joining forces with the corrupt police chief—with Dragon caught in the middle of it all. Making his life more difficult still, are the pirates left over from part 1, bent on revenge for the death of their leader at Dragon's hands.
Debbie's Review: The only thing that keeps this sequel from surpassing its predecessor is the absence of Jackie's opera brothers Sammo Hung and Yuen Biao. If possible, this one has even more action than the first, and the fantastic bicycle chase scene from PA1 is nearly (but not quite) matched by a hilarious scene in which Dragon and the police chief, handcuffed together, are being hotly pursued by the pirates. Great choreography and comedy in this one. If you've seen Shanghai Noon, you will notice the "hatchet trick" that Jackie recycled for the American audience.
Although Sammo and Biao are missing, the presence of Bill Tung and Maggie Cheung almost make up for that. Another amazingly complex scene has "Uncle" Bill, a couple of the Nationalists, Dragon and a fellow police officer (handcuffed together), and a couple of the Emperor's henchmen all hiding out in Maggie's apartment, unknown to each other…Jackie has said it took him a couple of months to figure out the logistics of it all.
And finally the end of this one has the kind of manic Jackie-against-the-world fighting that we all love. He also duplicates a trick from an old Buster Keaton film where a wall falls on him, leaving him miraculously unhurt by standing directly in the path of a window. All in all a first rate piece of action entertainment, and one of Jackie's best.
Score: 9/10


Reader Reviews
Azizur Rahman's Review: This is the best Jc film I've ever seen. The fights are hilarious and so is the humour. I liked the part when Maggie Cheung had to hide lots of people who were hiding from each other and when Chan ate those chilli peppers. i liked it in the outtakes where it shows Jackie Chan singing in the left hand corner
Score: 10/10

Chan-o-rama's Review: Fun. Thats how i sum this movie up. It has it all. A good plot, humor, and some intense action. The choreography in PA2 is magnificant. Who said sequels suck?!?
Score: 8/10

Drunken Master's Review: Yet another sequel with mind blowing action. With an excellent fight at the end a must see movie and one to get for the collection.
Score: 7.5/10

OJJE'S REVIEW: THIS MOVIE IS REALY GOOD WACHING ITS QUIET FUNNY AND THE FIGHT AT THE END I COOL WHEN CHAN EATS THOSE HOT PEPPERS AND ANOTHER GOOD BIT IS WHEN CHAN GOES FOR THE BAD GUY HE ACCIDENTALLY JUMPED INTO THE WATER.
Score: 8/10


Mark's Review: This film has possibly ones of the best fight sequences at the end of any Jackie film, followed by a excellent stunt to finish the film. High on my list of favourite JC films - a must see.
Score: 8/10

Peter A's Review: This is a fantastic sequel- check this film out. Not quite as good as the first, but the action and stunts are mind-blowing at times.
Score: 8.5/10

Joe's Review: Another one of those movies that the more I watch it, the more I like it. Great fight scenes, with some slow stuff in the middle.

Brendan's Review: Finally, I can review a great Chan flick. The stunts are even better than the first one, if you can believe that. The fights are probably not QUITE as good as the first, but it had a hell of a lot to live up to, and the fights are still great anyway. This is a fantastic movie, one you've got to see. It had a hard job living up to the first one, but this is still awesome- Great work, Jackie and team, definitely.It makes a mockery of the "standard" action-movie sequel, as it's just so much better than that.
Score: 8.5/10