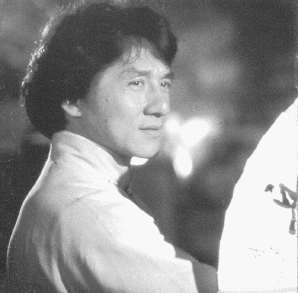 Synopsis: Jackie returns as Wong Fei Hung, the legendary Martial Arts hero of turn of the (19th) century China. Once again, Fei Hung is portrayed as a naughty, mischievous youth who is a constant source of headache to his father (Ti Lung) and step mother (Anita Mui). This time a mix-up between baggage on a train results in Dr. Wong's medicinal gin-seng being switched for a priceless Imperial Jade Seal. Hot on the trail of the seal are British smugglers and their Chinese henchmen, and a retired Chinese army officer (played by director Lau Kar Leung) who wishes to interfere with the smugglers' plans to remove precious historical artifacts from the country.
Debbie's Review: Most Jackie fans will tell you this film is quite simply his greatest masterpiece. I have to agree. It may be the closest he will ever come to a perfect movie. For once the supporting actors are all top notch, and give outstanding performances…particularly Anita Mui as Fei Hung's feisty step mother, upstaging him in every scene they share. Okay, so he is 20 years too old for the character, and he looks older than both his "parents" at times, but his youthful charm and astounding energy make you forget all that.
And the fighting in this movie will knock you out. There is something about the costumed "Kung Fu" movie that is just irresistible to me, and to see Jackie in the peak of his physical prime, still pulling off seemingly impossible moves at the age of 40 (!) is a joy to behold. There are five major fights in this film, all traditional-style kung fu with few props…just Jackie showing how it's done, and done right. The film starts right out with a frantic sword/spear fight between Jackie and Lau Kar Leung under a train, then goes to a friendly contest of styles between Fei Hung and an acquaintance in the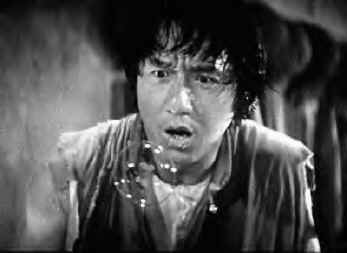 market place, where Jackie demonstrates his drunken style for the bystanders. Next comes a brawl between Fei Hung and 5 or 6 purse-snatching smugglers, with step Mom tossing him bottle after bottle of liquor to help him become an invincible drunken master.
Then we see a crazy free-for-all when Fei Hung and the ex-army officer are attacked in the upstairs of a restaurant by over 100 axe-wielding assassins. This fight not only will astound you, but it provides a flimsy excuse for Jackie to fight bare-chested, pandering shamelessly to his female fans (I love it when he does that.) Then, finally, the all-time greatest, most intense, thrilling fight of Jackie's entire career when he confronts the smugglers inside the iron foundry they have been using as a front to remove cultural artifacts from China. Crawling through burning coals, drinking industrial alcohol and becoming a human torch, and then finally going toe-to-toe with Korean kick-boxing champion Ken Lo…it just doesn't get any better than this (well, maybe, if he took his shirt off again…but never mind).
Between the fighting (if it matters to you) is an entertaining story with wonderful comedy and charming characters, beautiful photography and the best music score of any Chan film…maybe the best movie score ever not written by James Horner (Titanic, Braveheart, Legends of the Fall).
This film was released in America as The Legend of Drunken Master, because of course most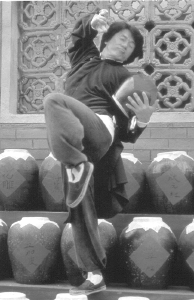 Americans have no idea there was ever a Drunken Master 1, so the title Drunken Master 2 wouldn't make much sense, would it? The US dub is about as good as dubbing gets, although it might have been even better if all the principle characters had done their own dubbing (only Jackie did his own, creating another one of those ironic cases where the American version has Jackie's own voice, but the original Cantonese doesn't). And for once, Dimension didn't hack the film to pieces as they usually do. Only about 3 minutes of the end were removed—a scene where Jackie, blinded and brain-damaged from drinking industrial alcohol is staggering around cross-eyed, with his tongue lolling out the side of his mouth, practicing "blind boxing." Some fans howled in protest that this hilarious scene was removed, while others (well, mainly me) were happy to see an embarrassing bit of bad taste removed before anyone else could see it.
The worst thing Dimension did to this film was to remove the brilliant, lively original score and replace it with a dull, lifeless American one. The new score, while not horrible, just lacks the punch of the original, especially during the fight scenes. The good news is that if you only have access to the American version, you won't know what you're missing, and the gorgeous picture quality of the American DVD almost makes up for the lost original sound track (I said almost). The second worst thing Dimension did was to put the most insulting, stupid, crappy cover art on this movie that I have ever seen. Even though Legend of Drunken Master was released in American theaters hard on the heels of Crouching Tiger, Hidden Dragon's phenomenal success, none of the marketing geniuses at Dimension thought to cash in on the American craze for Chinese culture. So instead of a beautiful, artistic portrayal of Jackie in striking traditional Chinese costume, we get a 10 year old stock picture of him in a black t-shirt punching his way through white paper…advertising that clearly says "Don't bother, this is just more Jackie Chan chop-socky crap…you've seen it all before!"
Score: 10/10
Dimension's version: 8/10 (2 points off for the crappy cover)


Reader Reviews
Kung fu Supercop's Review: A lot say that this is chans best film so that makes it a pretty overrated movie.But like Chans other films this is a good one.Re relesed as legend of the Drunken master in the year 2000.This is the sequel to Drunken master(1978).Its the story of a man who uses Drunken boxing to fight his enemies and his parents dont like it (kind of like master with cracked fingers)
Score: 8/10

Super Dragon's Review:A lot of people say this is is Chan's best film.It is good but still not his best.This is about a man who uses Drunken boxing to defeat his enemies.He drinks a lot in this movie.This is the sequel to Drunken Master(1978) which i have not seen yet.In the usa it was rerealesed in the year 2000 and was renamed legend of the drunken master.I recommend it to any Jackie chan fan
Score: 9/10

Funky dragon's Review: The sequel to the first drunken master movie.I have not seen it yet but i will soon.This was made in 1994 but then they re showed it in america in 2000 and called it Legend of the drunken master because no one knew about drunken master 1. I saw this on the movie network.Its really funny the way jackie fights.He uses drunken boxing in this movie.If either you like kung fu,jackie chan or drunken master 1 watch this movie.A lot of people say this is jackies best movie.
Score: 9.5/10

???'s Review:An excellent movie.I have not seen drunken master 1 yet but i will soon.Another very funny action packed film.In the year 2000 this movie was realised in the U.S as legend of the drunken master because americans did not know about a drunken master part 1.

Chan Fan 1986's Review: You suck if you say that this is not one of JC's best movies. This has the absolute best fights of not only any JC movie, but of any movie of all time. The last fight is unbelievable, the fight choreography took so much time, the acting by everyone, especially JC and Anita Mui, is top notch. You are not a true Chan fan if you have not seen this film,which is the best movie ever along with Miracles and Project A. See this movie now if you have any ounce of respect for your love of kung fu film.
Score: Best movie ever...1 billion out of ten

Jackiechanmanuk's Review: i need 2 see this film and fast the only thing ive seen is the trailer and about 5 minutes of the final fight on a comliation dvd of the best fights.Im thinking about importing it from somewhere like america for my birthday.The final fight looks almost as good as the Benny 'the jet' fight from wheels on meals which might i add is the best fight ever.email me if you know any good sights to get it from Drunken master 2) apart from hkflix ,hkl,ebay,amazon this would be much appreashiated
Score: i dont' know/10

Chan-o-rama's Review: I really enjoy watching this movie. It ranks as one of my fave JC movies ever. It's fluid, funny, and exciting. The story is great and the fights are something to stand up for. The final fight with Ken Lo is one of my faves. Buy this movie, i gurantee you wont regret it.
Score:10/10

Homer J's Review: Reviewing this film is actually quite hard. How to put into words the expression on my face when those fight scenes appeared. I had been thinking "Jackie's 40? can he still do this stuff?". I should never have doubted. A veritable cavelcade of blistering martial-arts mayhem, full of moments you want to tell your friends about. For me the fight scene before the one with Ken Lo was an absolute genius piece of speed, choreography and dexterity, I cannot think of an adequate superlative that does it justice. The film is heightened even more by the awesome music score - when the signature theme kicks in, so does the Drunken Boxing, simple yet utterly cool. Why Dimension felt the need to change is not only a mystery, but an absolute disgrace.

Quite simply the pinnacle of Jackie's illustrious career. You know the score.
Score: 10/10

Brian Kim's Review: This movie is the, if not one of the, best!!! The action scenes are just brilliant and Jackie really shines despite his age. Ken Lo also performed wonderfully and stole the last 10 minutes of the movie. But Jackie is still better.
Score: 11.5/10

Il Juliano's Review: This is the greatest Jackie Chan movie ever! There are not many big stunts, but difficult stunts. The fighting scenes are great and also the comedy. Every self respected Jackie Chan fan must see this movie. DRUNKEN MASTER 2 IS THE BEST CHAN MOVIE EVER!!!!!!!!!!!!!!!!!!!!!!!!
Score: 10/10

HERVEY TAYLOR's Review: Well worth every dime you pay. Well worth every minute you watch it.
I got lucky and saw this movie in it's original form with English subtitles before
"Evil Dimension" grabbed and changed the music score.
Drunken Master 2 is a classic. Every one brags on this movie. And guess what? It's that good. You must watch it.
Finally Jackie Chan goes all out and uses the 8 drunken gods styles. The first movie focused totally on him learning those styles. In DM2 he uses them but only in the end and very fast.
Like "Miracles" Anita Mui shines as a good supporting actress. I love this movie. Any person calling themself a fan of martial arts and Jackie Chan should be ashamed for not watching this classic martial arts master piece.
It has great Martial Arts, action, acting and drama with a dose of Chan comedy.
Extremely Highly Recomended!!
Chinese version.
Score: 10/10

Rzelwar's Review: This is a must see Jackie movie. Jackie has incredible stunts and is very funny. Then at the end of the movie with the 2 on 1 fight its JUST GREAT!You must bye it.
Score: 10/10

J Review: This is with no doubt one of Jackie's masterpieces.The story was very good,but the fighting was breathtaking.I watched it 5-6 times in one week when i got it. I know that all who have seen this one, know's what i'm talking about.Great movie.I recommend it at the highest.
Score: 10/10

Drunken Review Master's Review: One of the best follow ups to a classic in history, Jackie reprises his role as Wong Fei Hong, a mischevous, humorous young man who knows the secret deadly art of Drunken Boxing. This sequel has everything&more that the first had comedy, drama,and great fighting scenes, everything from the opening sword fight to the final fight in the factory was beautifully choreographed, the acting was much better in this one, particularly the scene right after Jackie takes on a group of thugs, his father tells him he disgraced him then yells&beats him before ultimately shunning him, and Jackie even though still drunk shows a lot of emotions, great scene. As for the fighting I did notice Jackie used wires for a lot of his moves, but everything fit in nicely, in the final fight JC fought Kenneth Lo (his former bodyguard) who showed that he was a true bootmaster. All in all it was a better movie than the first, certainly one of my favorites, but the only thing is Jackie's actions weren't as good as say the original Drunken Master or Police Story. So that being said my score is:
Score: 9/10

Brendan's Review: Brilliant effort from Jackie. The fight sequences at the end of the film are probably the best of Jackie's career.The weapon fight under the train is also brilliantly choreographed.Jackie's choreography here is great, and the fight scenes are shot exquisitely.

The drama and acting are quite good, and what comedy there is is quite entertaining.The story has some decent morals, and the characters are not as cliched and cartoonish as they could have been, with Anita Mui in particular bringing some quality acting tothe film. This is a classic of its genre, probably Jackie's best ever work. Well worth the time it takes to watch it.
Score: 9.5/10

Nicky's Review: one word: AMAZING!!!!!!!!

the use of a very crazy martial art style is a nice change from most other films, the action is almost non stop from start to finish and with lots of comedy with it, this is definetly one of Jackie's best performances.

The last fight scene is glorious to watch and comedy is just plain silliness btu thats fine..

However, this movie has a pretty dire storyline, its a mix between revenge and saving chinese artefacts and u will constantly forget why Jackie is up against the last guy.. but when we watch Jackie films, we usually dont care about storylines
Score: 10/10

TaeKwonDoRol's Review: This movie is tight ass. Everything is good about it. The acting, story, stuntsand fight scenes. If u are going to get a movie with Jackie Chan get this one. One more thing KEN LO IS THE BOMB IN THIS MOVIE. No wonder he is Jackie's bodyguard. Anyway go and get this movie.... NOW!
Score: 10/10

Wong Fei Hong's Review: WELL AS MANY OF YOU HERE, WHAT CAN I SAY ABOUT JACKIES MOST ELABORATE FILM, ALL THE MOVES ARE ASTOUNDING, AND THE FIGHT SCENES ARE JUST SOME THAT NO OTHER ACTION HERO WOULD PERFORM, NOT EVEN JET LI!!!!, I'VE SEEN THE MOVIE OVER AND OVER AND OVER, AND I NEVER TIRED OF SEEING IT, JUST BECAUSE IS A MOVIE YOU CAN ALWAYS WATCH AND WILL KEEP YOU IN THE SEAT NO MATTER IF YOU KNOW WHAT WILL HAPPEN, IT'LL SURPRISE YOU OVER AND OVER AGAIN. AS FOR ME I DON'T BLAME THAT MUCH DIMENSION, FOR THANKS TO THAT NOW GUYS LIVING DOWN HERE FINALLY HAVE THE CHANCE TO SEE IT, AND IT WON'T BE JUST A FEW LUCKY ONES TO SEE IT AND OWN IT, AND THE JUST RELATE IT IN THE SITE, THAT'S UNFAIR!!!!. FOR THOSE WHO HAD NOT SEEN THE DRUNKEN MASTER 1, LET'S SAY THAT DRUNKEN MASTER 2 IS THE FINAL TEST OF THE PREVIOUSLY LEARNED TECHNIQUES IN DRUNKEN 1, BOTH OF THEM ARE MUST HAVE. PLEASE KEEP IN TOUCH ANY OF YOU IN CASE YOU HAVE A FAN CLUB OR SOMETHING LIKE THAT, FOR I'D LIKE TO JOIN TO ONE.
Score: 10/10

The Perfect Soldier's Review: This movie is the greatest Jackie Chan movie, no-the greatest ACTION movie I have seen in my life! The fight scenes are spectacular, and Jackie's 'Eight Immortal Fairies' style is awesome!
Score: 13/10

G's Review: well I can say about the movie is it have a good fighting scene where Lau kar leung and jackie chan in the train that was good and whenhe was drunk in the factory scene wow!!amazing and drinking Industrial Alcohol made him drunk?? Hey What is indrustrial Alcohol any way please E-mail me to I understand PLS!!
Score: 9/10

J.Davies' Review: I had "Who am I" as one of my faves before watching this one. I don´t know how many times I´ve watched "Drunken master", but it´s sure to be up around a hundred times. There doesn´t seem to be an end to the fighting, and thank god for that!
Of course the two drunken bouts are the best and you keep wondering if Jackie ever gets fatigued. The drunken boxing presents some moves you really can´t see anywhere else, and when Jackie Chan is furiously finshing up in the last fight he is, in my opinion, GOD. Solid gold people, say no more
Score: 10/10

THE NEXT JACKIE CHAN's Review: MAN THIS U MUST I REPEAT U MUST SEE IT!!!!!! I NEVER GOT BORED OF THIS MOVIE AND HIRED IT OUT ON DVD AND VIDEO ABOUT 95 TIMES!!! I LOVE EVERYTHING ABOUT THIS FILM AND I HAVENT SEEN THE FIRST ONE BUT WHO CARES!!! JUST WATCH THE BLOODY MOVIE IM TELLING U ITS THE BEST MOVIE U WILL EVER SEE IN UR LIFE!!!

P.S IF U R A BIG JACKIE CHAN FAN LIKE I REALLY AM U WILL WATCH THIS MOVIE BEFORE U DIE OR U R AN IDIOT!!!!
Score: 100/10

Oliver Norberg's Review: I agree that this is one of Jackies best movies and i agree that the Fights,Comedy,stunts,story and acting is all allmost perfect the music is god thougt i think the original is much better ( The one from OUATIC music score )
This movie ha snot so mucha comedy as a Jackie chan movie should have but amazing fighting scenes. Theres A big misstake to in this movie, the story about Wong fei hung is not correct and they done many misstakes about his life.
But...I say like this...If you just going to see one jackie movie..see this one =)
Score: 9/10

Aubrey's Review: I LOOOOOOOOOOOOOVVVVVVVVVVVVVVVEEEEEEEEEEEEEE this movie! Its the best Jackie chan movie ever! HELL YEAH! Every time I watch this movie on my playstation2 I play the final fight scene over and over again. Jackie is the true legend and he can beat Jet Li even though jet li knows more moves. But does he know drunken boxing? No! Well anyways Rent this movie or buy it. I havent seen the first one and the cover for the american version looks like shit!! With fast paced action and really good action I recommend this movie to anyone who loves jackie chan like me. AHHHHHHHH GOOD STUFF!
Score: 10/10

SlipperyK's Review: This is Jackie Chan's greatest movie, topping the first one in everyway. Great fights scenes, great humor. Rent this movie. Jackie CHan at his best.
Score: 10/10

Patrick Morales' Review: I tink this movie was his best yet!!! There was a lot of action, (especially the factory fight), and his step-mom was hilarious. But other than Police Story, this is JC's best action film!!!!!This is one of the greatest action films I've ever seen in my life! Literally. Jackie Chan did a great job with the action sequences and I love that factory fight in the end!!! That was excellent!!! But overzealous, this is JC's best film yet!!!!!! YEAH!!!! LONG LIVE JACKIE!!!!","
Score:10/10

neilg9's Review: Spectacular fighting scenes with excellent plot and hilarious comedy, truely Jackie's best movie to date!!
Score: 10/10

Joe's Review: Overrated, yet still really good. Some really nice action, and some of the comedy works for me.
Score: 7.5/10


Biggiest Fan "s Review: This movie was the best ever. Jackie did a really good job on this one. The action and the stunts was incredible and the comedy was hilarious. But once again I have to say that THE AGE DOESN'T MATTER he is just acting. I ,also, agree that the American cover was just stupid. Why would they put him punching through a white paper? That's the only thing that I don't like about it. Americans always gotta change everything. I am not saying that they are wrong for that, but sometimes they just gotta keep things the way they are because the things they do to movies are just plain dumb. Other than that, this is my favorite Jackie Chan movie yet.
Score: 10/10

Adam JC fan's Review: OHHHHH, my gosh. This movie is the best Jackie Chan movie ever. I loved the movie so much I watch it all the time. In this movie Jackie Chan who playes Wong Fei Hong. The last fight is the best. This movie is funny, it has drama and a lot of fighting. PPPPPPLLLLLLLLEEEEEEEEEAAAAAAAAAAAASSSSSSSSSSSSSSEEEEEEEEEEEEEEEEE rent or buy this movie. You have to see this movie. It's a must see. The movie is a masterpeice.
Score: 10/10